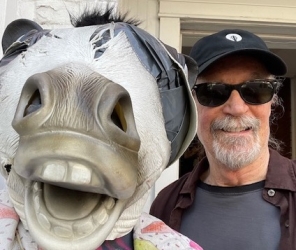 DAVID BEMIS – Writer, Director, Photographer

David Bemis is a filmmaker/photographer and the principal of Faceless Fish Productions, LLC, a New York City based production company creating original films and photographic series. David has been taking photographs for more than forty years, and after working in NYC as a freelance multimedia graphic designer, has been making independent films since 1999.

David's short film, "In Your Dreams," was an official selection of the 2015 NYShortsFest and screened at the Landmark Sunshine Cinemas in NYC on Tuesday, May 26, 2015. David's short film, "In The Bag," screened at the Hoboken International Film Festival and at the NewFilmmakers NYC Summer Series in 2009, as well as winning the weekly WNET Reel 13 Shorts online competition May 29, 2009. "In The Bag" was broadcast as part of WNET/Thirteen's Reel Thirteen Program on June 6, 2009. David's second film, "Death of an Industrialist: A Family History," an hour long fictive non-fiction film about the life and death of his great grandfather, Howard R. Bemis, premiered at the Silver Lake Film Festival in Los Angeles in 2002 and was shown at the Dallas Video Festival in 2003. David's first film, "My Imagination," a dreamscape travelogue won a Bronze Award for experimental video/mixed media at the 1999 Worldfest Houston Film & Video Festival, screened at the 13th Annual Dallas Video Festival in March 2000 and also screened at the Knitting Factory in NYC at a 1999 Video Lounge presentation. The film was accepted into the Ifilm website in the experimental section.

Current projects include: 1. Producing and directing a series of short films for web viewing dealing with the challenges we face in communicating with each other. To date these include "In Your Dreams" "Lee Goes Shopping" "Gone But Not Forgotten or The Sad Victory" and "The Date." 2. The first draft of a feature film script entitled "Plenty of Time for That" about the struggles of a personal assistant working for an out of control real estate developer. 3. An ongoing photo essay entitled "Saturday in NYC" photographs by David Bemis.
Other photographic work: 1. A portfolio and self-published book entitled "Turn of the Century" photographs by Howard R. Bemis. 2. A self-published book entitled "Some Things I Saw in the 1970's" photographs by David Bemis.